FIE
Electronic Lean Out valve Assembly
---
If you're looking for multiple stages of control, check out our new
multi-stage manifold with timer
!
Looking to activate/control your valve(s)? Check out our time controller!
 Redesigned! New fancy body is easier to mount, easier to plumb and it's easier to change pills.
We've searched high and low and tried many different solenoid valves for fuel injection lean-out duties. This fantastic valve isn't just a re-purposed nitrous solenoid. Nitrous valves pull too much current, have tiny little 1/8" NPT ports, and don't flow nearly enough. Other similar industrial valves can't function reliably under high enough pressure to be useful or have seals/seats that are incompatible with methanol or nitromethane.
This 12VDC valve boasts 3500 PSI operating pressure, 11 GPM flow (@50 PSI pressure drop), -8 female ports and draws less than 1.7A. It is simply the BEST we've ever seen for this kind of duty.
Perfect as a high-speed lean out, stage valve, or "converter helper", this fantastic valve can do it all! Also available in a normally open version for enrichment purposes.
The lightweight aluminum valve body is hard anodized for long life. The assembly includes a brass pill plug, button head plugs in one of the IN and OUT ports, and -6 male fittings for attaching your hoses. This body accepts standard Enderle screw-in bypass pills (not supplied).
The coil can be rotated to position the non-polarity sensitive leads in any direction desired. The thru holes in the valve body allow bolting the valve to the vehicle with 1/4" socket head cap screws (not supplied).
An IN and OUT in each side means easier plumbing...use the port that works for you. The plugged, unused ports can serve as an extra pressure or return port for other purposes.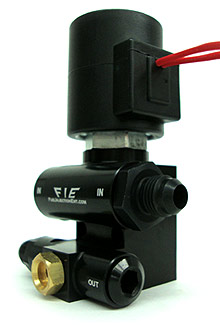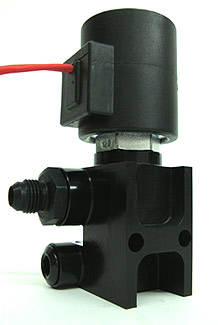 As a high-speed lean out, this valve can be activated with an RPM activated switch or timer when needed to take fuel away at the top end for best horsepower.
What's a "Converter helper"? When a fuel injected motor is on a rev limiter, the motor cools down severely since a large quantity of fuel is not being burned. This valve can be wired to the transbrake circuit so that when the transbrake is set, the valve opens and keeps the motor hot, lean and mean while on the rev limiter. When the transbrake is released, the valve closes and the system goes back to full rich for the launch. Amazing improvements in 60' times can result on supercharged or naturally aspirated applications. Typically, removing 2 to 3% of the normal fuel required by the motor is a good place to start, removing up to 5% in some cases.
Solenoid valves are also used on clutch cars triggered by a clutch switch and are referred to as a "stage valve". When revving the motor prior to launch (while the car is staged), the valve keeps the motor from loading-up while under no load and at partial throttle where the AFR is difficult to tune.
This valve comes default with gas and methanol compatible seals. If nitro safe o-rings are required, please specify in the notes section of your order.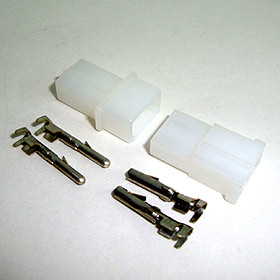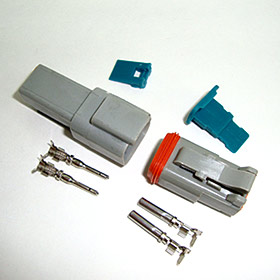 This valve is supplied with plain 16" wire leads for connection to your vehicle. We offer a couple of standard connection options above at additional cost. Both halves and pins are supplied and YOU do all the crimping. Both the Molex (white) and Deutsch (grey) connectors shown above are the same as used on many MSD ignition products and require special barrel-type crimpers. The connector options in the pull-down menu below are also supplied with 16" of black fire-sleeve to protect the leads.
---
Share this Product
---
More from this collection