FIE
Pro-Plugs for Pro cap adapter screw holes
---
Putting silicone down the Mallory Pro Cap adapter ring screw holes to keep the rotor from shorting to the screw heads has always been a pain. These triple o-ring plastic plugs solve the problem!
Easily installed and quickly removed, now checking the points or inspecting the condition of your mag is a snap. Sold as a pair loaded with -902 O-rings (same as used on Enderle nozzle jets), these plugs use a small side hole to allow easy removal with a pointed tool. A dab of silicone grease is included to use on the o-rings so the plug pushes right in.
High voltage spark won't get past these and they stay put until you're ready for them to come out.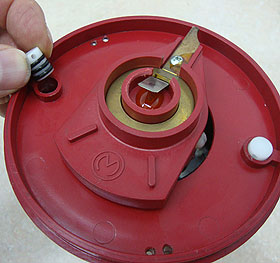 ---
Share this Product
---
More from this collection