Enderle
High-speed Bypass Assembly
---
A high-speed lean out can be essential to getting good top end performance. Read more about this.
Tailor this assembly to your needs. This can be mounted off the pump, fuel shutoff, barrel valve, etc. Can also be used for a pump saver, pump sizer...
Includes one of the tee fittings below, a brass pill holder fitting, your choice of brass or aluminum check valve, shim kit, and your choice of pressure ranges (determines the spring size that is supplied with your check valve).
One end of the tee fitting is "o-ring boss" (ORB) and the other AN male.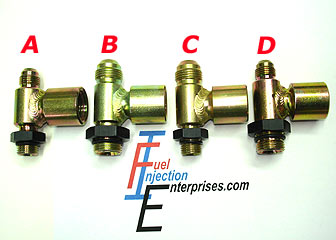 ---
Share this Product
---
More from this collection