FIE
Versatile Fuel Return Manifold
---
All the fuel return manifolds out there seem to be big, clunky, expensive things. By the time you've put all the fittings and plugs into them that you need, you can easily have over $130 into one. We've tried everybody's block and the combination of holes and placement never seemed to be quite right for what we wanted to do. So…we designed and built our own.
This little block is super flexible and it comes LOADED with whatever genuine Enderle fittings you need for about the price of those other blocks BARE! The fittings are INCLUDED.
A bulkhead fitting in one end to interface with a fuel shut-off or pump opens up all kinds of possibilities. Run the idle check valve and high-speed bypass from the hat into the top, and the combined return out the end with a hose or out the bottom using hard-line back to the inlet. We recommend running the pump saver back to the hat distribution block, so there's no need for a third in the top. But if you like, the pump saver can easily be run into the end port using a 90 degree hose fitting and the fuel returned out the bottom.
 Choose your fitting configuration below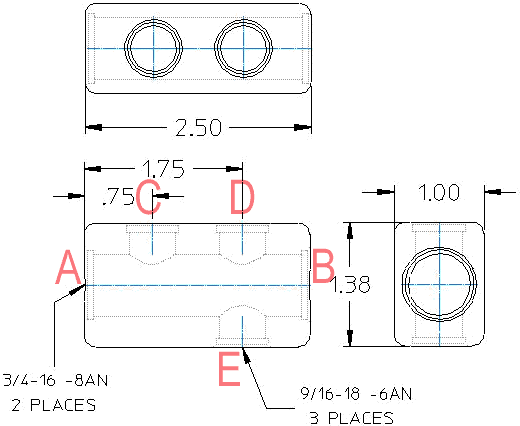 Sizes below refer to the exposed portion of the fitting that will interface with your hose fitting or port.
Tell us your fitting options in the NOTES section at checkout.
Port A: Bulkhead: -6 ORB or -8 ORB
Port B: -6 AN Male, -8 AN Male, or Plug
Port C: -6 AN Male, -8 AN Male, or Plug
Port D: -6 AN Male, -8 AN Male, or Plug
Port E: -6 AN Male, -8 AN Male, or Plug
---
Share this Product
---
More from this collection