FIE
8 amp Super-Mag V - Severe-Duty
---
This is the most reliable Super-Mag V generator on the planet! Proven to exceed expectations lighting gallons of nitromethane in blown nostalgia funny cars. Our customers tell us that adjustments must be made to the idle mixture with this mag...it needs more fuel!
We start with an FIE Neodymium Magnet/Poleshoe/Shaft assembly built in-house. A brand new Super-V winding is added to a gold iridite finished aluminum housing. We add an extra grommet hole for the capacitor pass-thru to prevent any primary short circuits in the event of tire-shake. We then put in our own stainless steel breaker cam (extra dwell time built in!) and special point plate that allows the use of some extreme "severe-duty" contact points. These points can literally last years! These are not beefed up Mallory-style points - they are completely different and require the use of a taller rotor/cap assembly.
This mag now comes with the option to use a Mallory Pro cap or the MSD cap. We add our own adapter ring and steel fabricated rotor driver that moves everything up. We add a huge rotor tang and heat sink to the rotor to prevent melted plastic. A 3-wire harness and just the right amount of capacitance on the outside make things really sing. We add the driver of your choice to the bottom and test it through 10,000 engine RPM. Complete with output test report.
The perfect match for this mag to make the most possible output is the giant red transformer built for the Super-Mag V and Super-Mag+. We also have the brackets for them.
Your crusty old Super-Mag II, III or IV is accepted as a core with $200 credit applied toward your purchase. Any old Super-mag V is worth $350 as a core (must have a V winding inside).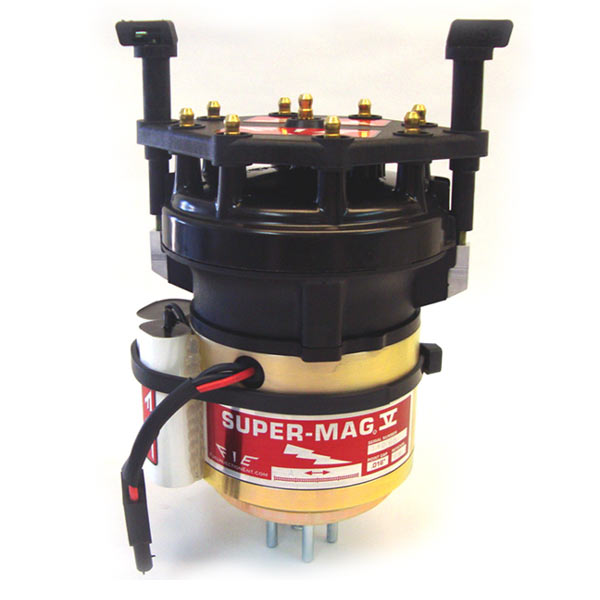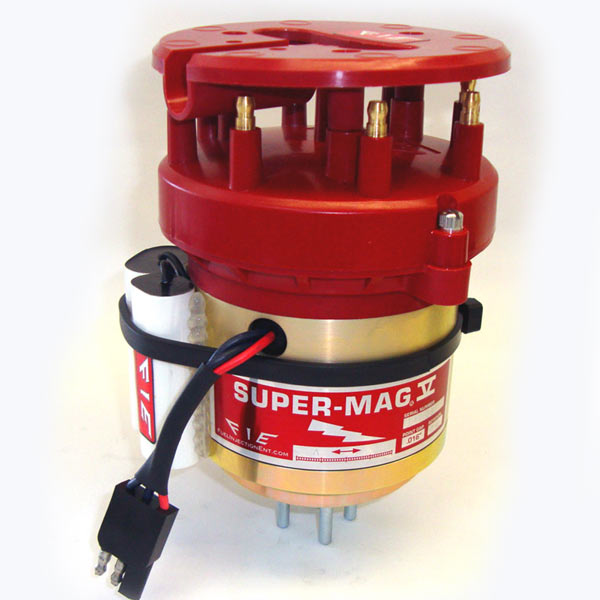 Specify your choice of cap option, rotation and mag driver below.
---
Share this Product
---
More from this collection