FIE
Crank Trigger Pickup Adapter
---
Of course, we'd like the whole world to use our premium crank trigger pickups. So, we designed this little adapter so that even people who don't run the RCD pinch-clamp type of pickup holder can run our pickup too.
This adapter is threaded 3/4"-16 like most of the mainstream crank trigger brackets use...MSD, Mallory, Moroso, etc. all use a 3/4"-16 pickup. This adapter screws right in to those brackets, locks in place with the big aluminum nut, and allows our 3/8" smooth, straight crank trigger pickups to slide right in and be clamped securely in place.
Now just about everyone can benefit from our heavily shielded, low noise pickups.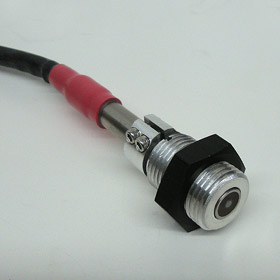 ---
Share this Product
---
More from this collection